HarvestCraft 1.5.1

Edit
Thead on Minecraft Forum
- All of HarvestCraft is now located in one zip file.  Within the zip file you'll find subfolders for each crop, tree, etc.  If you don't want a specific crop or whatever, delete only that specific subfolder.
- You'll need to regenerate your config files for all the crops, trees, etc.
- Changed all tree, bush, and seed drop rates to be much lower (use .cfg file to change this)
- Fixed broken recipes
- Fixed bug with stone dropping from leaves/fruits
- Immature fruits and re-growable crops are harder to break and if fully broken, disapear forever
- Cinnamon logs now act like other fruit blocks and don't need to be destroyed to harvest cinnamon
- Changed/added to the list of crops that can be directly planted into the ground like carrots/potatoes
- Sinks can now be used to not only fill buckets and glass bottles but also wash dye off leather armor
- Melon storage crates are now made with and give back 8 melon slices instead of 9
- Known Bug: Combustible lemons look like snowballs when thrown
- NOTE:  When loading these mods with an old world, you're going to get a list of errors saying Items have changed from ItemPamOnionFood to ItemPamFood etc.  This will not ruin your worlds and won't appear after the first time.  Just click yes.
Block IDs: , Item IDs: , Config File: Yes
Download:
Edit
Pam's Harvest Craft 1.5.1 (Direct)
Misc

| | |
| --- | --- |
| | |
| | |
Candle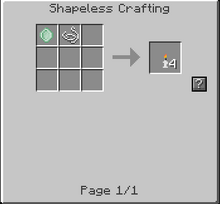 Can be coloured with vanilla dyes.
For a more refined contents list, see here https://docs.google.com/spreadsheet/pub?key=0ArTgnpc-33_cdE9pck9XcTh2X003dElyZEc1TVpNS3c&gid=0
Editing tools
Edit
Minecraft 1.5.1
ADCSee 9 Pro
Notepad++
Szure15HUN (talk) 00:42, May 8, 2013 (UTC)